How To Plan Your Fall Skincare Routine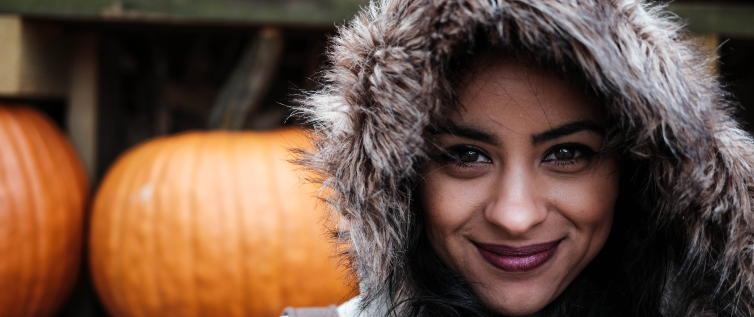 It's certainly beginning to feel a lot more like fall, and if you're like us, your skin beginning to feel more dry as a result.
Although here in Ontario fall started off feeling more like the best days in July, colder weather is inevitably on the horizon. With the change of season comes changes in what your skin will need during the colder months. Your summer skincare routine isn't going to cut it if you want maintain proper skin health.
Fear not! We've put together some key focus items to help you put together an awesome skincare routine this fall.
LIGHTLY EXFOLIATE
Exfoliating helps to clear dead skin cells and unclog pores, allowing your skincare to better penetrate deeper into your skin. This can help brighten you complexion and give your skin a fresher, more even-toned look and feel.
To create a detoxifying exfoliating facial scrub try the following mixture:
Gently massage onto your face in a circular motion and rinse off. You can do this at least once a week before applying toner and moisturizer.
For the rest of your body, stick with a sugar-based body scrub, as salt scrubs may be too harsh and should only be used for your feet. This is especially true if you are not used to using a body scrub.
Look for a sugar scrub (like ours) that is emulsified, so the product blends with water in the shower. This allows the rich oils and butters to deeply moisturize and hydrate your skin instead of just resting on the surface of your skin the way non-emulsified scrubs do. You can also lightly exfoliate lips using a sugar scrub, and apply a lip butter for added protection.
SLOUGH OFF DEAD SKIN WITH NATURAL ACIDS
As temperatures continue to drop through the fall, your skin will become more dry, making it more difficult maintain a bright, softer looking complexion. Any sun damage from summer UV exposure will also make skin look dull. To help alleviate these symptoms, look to natural acids.
Exfoliating with acids such as AHAs (alpha-hydroxy acids) or BHAs (beta hydroxy acids) are a great alternative to physical exfoliates. They work to penetrate pores and help break up the dead skin that creates a dull complexion.
Our Fruit Acid Lotion contains natural alpha-hydroxy botanical acids from citrus, sugar cane and bilberries that gently loosen up dead surface skin.   We recommend using this a few times a week, applying to your face and neck before bed right after using a toner.
Please note that if you have sensitive or reactive skin, you are best to avoid exfoliating with natural acids.
DON'T FORGET A FACIAL TONER
Aside from moisturizing, which you should be doing twice a day, don't forget the benefits of using a facial toner. 
Imagine your skin as a dry sponge.   If you are applying water to the sponge, it will take a long time for that sponge to soak up the liquid.  But, if the sponge is damp, it will absorb much faster.
Because toners include water and humectants, they help dampen skin which allows it to absorb moisturizing products more effectively. Therefore, applying a toner before moisturizing will help further hydrate your skin.
Here's a tip:  For busy days at the office or traveling when your skin is exposed to moisture-robbing heating systems, simply spritz your face a few times with toner…you'll notice an immediate improvement!
HYDRATE AND MOISTURIZE OFTEN
Depending on your skin type, you may need to either moisturize or hydrate your skin, or may require both.
Simply put, dehydrated skin lacks water where as dry skin lacks oil.  Dehydrated tends to feel tight, rough, or sensitive while dry skin can show signs of slight to severe flaking and tends to feel rough and itchy, especially after showering. Unfortunately colder weather will only make symptoms of both more pronounced.
For dehydrated skin, it's important to use a vitamin-rich cream moisturizer like our Hydrate Moisturizer that includes an emulsifier. Aside from the anti-inflammatory, antioxidant and regenerative benefits of organic hydrosols, essential oils and plant extracts, it contains water which gets delivered right to your skin. Make sure to apply it after toning when the skin is wet to lock in nutrients and avoid further dehydration.
For dry skin conditions, you may need to add an oil-based moisturizer such as our Quench Extra Hydration Oil to add the additional oil your skin lacks either on its own, or because of dietary or environmental factors. This will help keep skin moist even in dry fall conditions. 
ADD HYDRATION TO YOUR MAKEUP ROUTINE
If you're not already using mineral makeup, we really think you should give it a try!
Thankfully you can get a moisturizing and hydrating lift by blending our signature Makeup Mixer Base with your favorite fall colours. Just mix a small amount to any mineral makeup or foundation to create a creamy shade. Your skin will benefit by ingredients such as organic jojoba oil (a natural antioxidant), spruce knot extract (anti-inflammatory) and radish root ferment filtrate (potent moisturizer).
DON'T FORGET UV PROTECTION
To keep the skin looking healthy, and as a general rule, you should be protecting against UV rays year round, not just during the summer.
Although according to Environment and Climate Change Canada the UV index is very low in Canada during the winter months, regular activities still increase exposure. Once snow begins to fall and light reflects onto your skin, exposure can double.  According to Robert Nuttall, assistant director at the Canadian Cancer Society, "over 90 per cent of skin cancers are really down to your exposure to UV".
If you're using mineral makeup (which of course you are, right?), your skin will already have some sun protection from zinc and titanium dioxide.
For a quick and easy solution for days without makeup, add a bit of zinc to your skincare products or apply a sunblock after your routine.
For a complete list of our recommended Rocia Naturals products for fall take a look at our fall beauty essentials guide here.