How to Plan Your Winter Facial Skincare Routine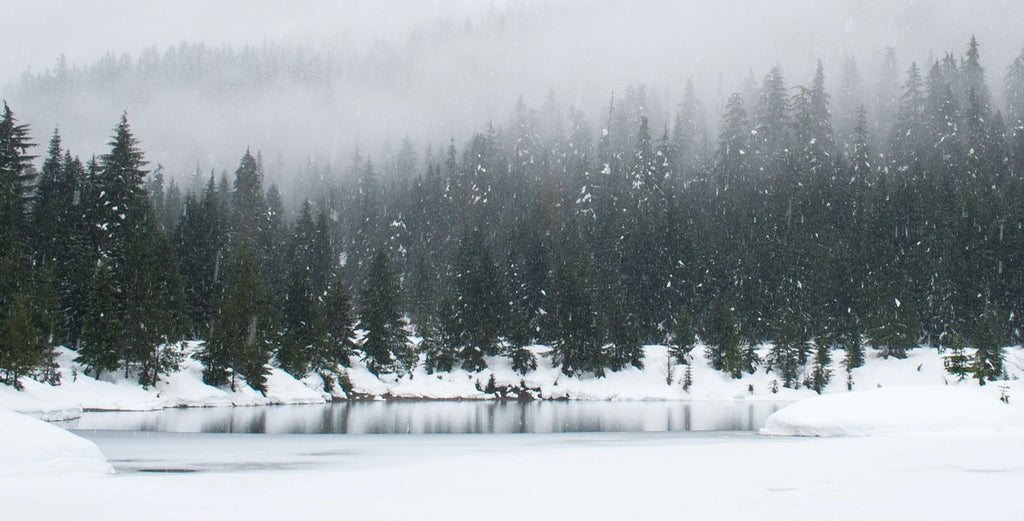 WINTER FACIAL CARE ROUTINE
Lower levels of light and humidity, cold wicking winds, low temperatures, thick layers of clothing, warm dry indoor air, less exercise ... sounds like a day-in-the-life of a Canadian and those wintery conditions can sure play havoc on our skin.
According to the Canadian Dermatology Association (CDA), "facial skin is exposed more to our winter outdoor climate than any other part of our body and it just makes sense to take some necessary precautions to protect it". We've probably all experienced at one time or another dry, flaky, irritated skin brought on by our cold Canadian climate but with a little bit of self care and a tweaked skin care routine we can help reverse those 'winter-skin' complaints!
CHANGE UP YOUR CLEANSER
Use a gentle cleansing formula that puts moisture into the skin rather than taking it out and a creamier or more oil-based product, the better!  Use 'lukewarm water' because hot water can strip the skin of it's natural oils disrupting the protective skin barrier resulting in vital moisture loss and dry, flaky, irritated skin.
DON'T FORGET TO TONE
Not everyone uses a toner but at ROCIA Naturals we simply feel it should be part of everyone's skin care routine, especially during the harsh winter months. Look for hydrating humectant ingredients such as glycerin, sorbitol, honey, hyaluronic acid, tremella mushroom that draw water from your skin care products and the air and pull it onto the skin's thirsty surface and avoid any alcohol-based toners. After cleansing, spritz on a toner, wipe off (final step of cleansing) and spritz a couple of times and pat in to hydrate that thirsty skin.
ADD A NOURISHING SERUM
 Dr. Abigail Waldman, instructor of dermatology at Harvard Medical School, states "serums are highly concentrated formulations that are designed to sink into the skin quickly, delivering an intensive dose of ingredients that can address common skin complaints". During harsh winter months look for skin-loving ingredients such as:
Glycerin, hyaluronic acid or tremella mushroom extract (attract water)
Alt-retinols such as moth bean extract or bakuchiol (stimulate cell turnover which can become sluggish during winter months).
Ceramides (help repair skin barrier and lock in moisture … ceramide levels drop between summer and winter resulting in skin water loss)
Peptides (trigger skin cells to perform specific functions such as building collagen & elastin, reducing inflammation, locking in skin hydration, and so much more).
MOISTURIZE, MOISTURIZE, MOISTURIZE!
According to New York dermatologist, Dr. Nikhil Dhingra, 'there are three critical components of a good moisturizer: a humectant, which lures water onto a surface to which it is applied; an emollient, which soothes the skin; and an occlusive, which traps water'. 
Some of our favourites at Rocia Naturals are:
Humectants:  tremella mushroom extract, glycerin and honey
Emollients:  squalane, shea butter, perilla oil and oat oil and cupuacu butter
Occlusives:  squalane, beeswax, ceramides, cocoa butter and zinc oxide
Dr. Joshua Zeichner, New York dermatologist, explains 'layering allows you to address multiple skin concerns with different products at the same time'.  A good rule of thumb is to layer lightest to heaviest (eg: watery toner first, serum second and moisturizer third).
LIPS ... A LITTLE 'TLC' PLEASE
According to dermatologist Dr. Melissa Piliang 'lips are a special type of skin that is very thin and delicate (and) dries out 10 times faster than the rest of the skin on our face.'  Some of the remedies Dr. Piliang suggests:
Use a balm morning, outdoors and at bedtime...many people sleep with their mouths open which can seriously dry out your lips

Don't lick your lips ..once saliva is on the lips it actually dries them out faster (plus) enzymes in saliva meant to digest foods are irritating to the lips
GENTLY EXFOLIATE
The CDA states that 'while moisturizers are imperative to maintain hydration, they aren't nearly as effective if applied to dead or dry skin...that's why exfoliants are critical for winter skin care'.
Dr. Corey Hartman, Alabama dermatologist, encourages 'exfoliation weekly to slough off dead skin cells helping to ensure that products will absorb better ... more frequent mechanical exfoliation can ruin the skin barrier and cause increased dryness and irritation'.
DON'T FORGET A SUNSCREEN 
Dr. Mathieu Powell, dermatologist at McGill University Health Centre, recommends using a mineral-based sunscreen (containing titanium dioxide or zinc oxide) with an SPF of at least 30 as skin is still prone to sunburn during winter months (sun-reflective snow and ice) especially when enjoying outdoor winter activities for long periods of time.
HYDRATE 
We all know how important it is to make sure we drink at least 8 cups of water per day and we can, of course, supplement that with some yummy 'warm' decaffeinated herbal tea during those cold winter months but we also need to think about hydrating our skin from the outside in with the use of a humidifier. 
Dr. Omar Ibrahimi, director of the Connecticut Skin Institute explains 'humidifers are a wonderful part of the winter skincare regimen (because) our heating systems often circulate air very low in humidity (and) this tends to make dry and itchy skin a bigger problem in winter'.
According to an article in Medical News Today, 'health experts state that humidity levels in the home should range from 40-50% - greater levels than this can encourage dust mites. In contract, humidity levels below this can irritate the skin, eyes and throat'. 
Discovering and transitioning into a new Winter Facial Skincare Routine can help give your skin that TLC it needs to not only look, but also feel its best during our long Canadian winter months.
Jacqui@ROCIA 💚